Lepidoptera from Rancho Grande, Rondônia, Brasil
Última versión Publicado por Department of Forest Sciences en Dec 18, 2015 Department of Forest Sciences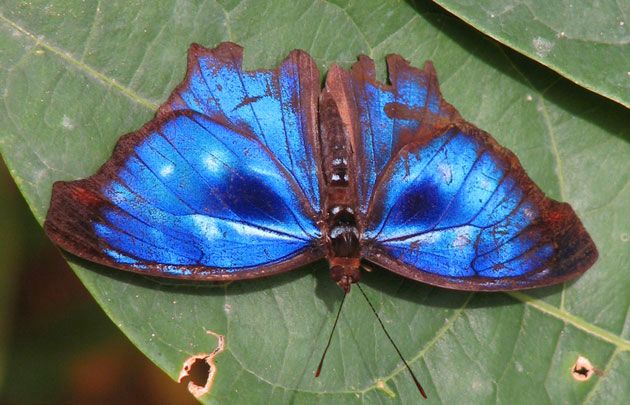 Old checklist of butterflies from Rancho Grande. This list which is published on the web site of Harald Schmitz is from an informal list George Austin prepared in collaboration with Tom Emmel and others. This list was one of several generated during the studies in the region to supplement and extend a published list (1990, Tropical Lepidoptera) for use by students and naturalists as a preliminary indication of the known species richness of butterflies at that site. Each iteration (the latest in 1997) updated and corrected previous lists with caveats of incompleteness in coverage and determination, and is not intended for publication. New information has been obtained subsequently with myriad corrections in identification, nomenclature and taxonomy. This means that the list is now almost obsolete as taxonomic resource, but still contains historical facts about perceived occurrence of species in the region. A new list is now (2005) being prepared for publication that, in many instances, bears little resemblance to the original list.
Registros
Los datos en este registros biológicos recurso han sido publicados como Archivo Darwin Core(DwC-A), el cual es un formato estándar para compartir datos de biodiversidad como un conjunto de una o más tablas de datos. La tabla de datos del core contiene 1,393 registros.
Este IPT archiva los datos, sirviendo así como repositorio de datos. Los datos y metadatos están disponibles para descargar en la sección de descargas. La tabla de versiones muestra otras versiones del recurso que se han hecho accesibles al público y permite el seguimiento de los cambios hechos al recurso en el tiempo.
Descargas
Descargue la última versión de los datos como un Archivo Darwin Core (DwC-A) o los metadatos como EML o RTF:
| | |
| --- | --- |
| Datos como un archivo DwC-A | descargar 1,393 registros en Inglés (32 KB) - Frecuencia de actualización: no planeado |
| Metadatos como un archivo EML | descargar en Inglés (6 KB) |
| Metadatos como un archivo RTF | descargar en Inglés (6 KB) |
Versiones
La siguiente tabla muestra sólo las versiones publicadas del recurso que son de acceso público.
Derechos
Los usuarios deben respetar los siguientes derechos de uso:
El publicador y propietario de los derechos de este trabajo es Department of Forest Sciences. To the extent possible under law, the publisher has waived all rights to these data and has dedicated them to the Public Domain (CC0 1.0). Users may copy, modify, distribute and use the work, including for commercial purposes, without restriction.
Contactos
¿Quién creó el recurso?:
¿Quién puede resolver dudas acerca del recurso?:
¿Quién documentó los metadatos?:
¿Quién más está asociado con el recurso?:
Cobertura Geográfica
Rondônia, Brasil
| | |
| --- | --- |
| Coordenadas límite | Latitud Mínima Longitud Mínima [-10.32, -62.883], Latitud Máxima Longitud Máxima [-10.285, -62.865] |
Cobertura Taxonómica
No hay descripción disponible
| | |
| --- | --- |
| Orden | Lepidoptera (Butterflies) |